Microfinance and the re-exploitation of women: Some thoughts on Kiva's interest rates
Preface
This is ostensibly an essay about the microlending website Kiva.org and the interest rates charged to poor borrowers by its financial field partners. It is actually my attempt at an introduction to Marxian economics and materialist feminism. In retrospect, the research and writing I put into this essay (over the course of several years) were mostly to the benefit of my own learning as I sought to clarify my position on various controversies. But of course I hope I've put down a few notes of interest to other readers as well. In particular I hope the introductory material is adequately clear so that a reader previously unfamiliar with the topics discussed will be able to go on and read the works listed in Chapter 6, Further Reading if they desire (as well as the wealth of Marxist and feminist material available elsewhere).
Due to the personal nature of my methodology, the selection of sources throughout the essay follow somewhat haphazardly the whims of my curiosity rather than a systematic exploration of the issues. Although this has resulted in an essay which is clearly polemic in nature, I've tried to engage and synthesize most major positions and relevant academic treatments. Unfortunately, in an attempt to keep things concise, my impressionable voice may have adopted something of a pseudo-scholarly and arcane tone in mimicry of my academic sources. For that reason I feel I should state my main thesis in plain language at least once from the outset, and that is that most of the billions of people in the world today already do too much work, particularly women, especially in the so-called third-world or developing countries, and any scheme which promises to improve life by giving poor women more work to do ought to be met and examined with the utmost suspicion.
The good news is that nobody needs to read this entire essay. Each top-level section should be mostly standalone and readable on its own.
Readers only interested in Kiva should read:
Printed and eBook copies
Printed, hand-assembled booklet versions of Microfinance and the re-exploitation of women are available to Patrons and to anyone else who wants to send a few dollars to me (or to anyone who doesn't have dollars to spend on internet essays if they email me and ask for a copy).
Patrons also have access to ebook (epub and mobi) versions with working table of contents and footnotes for reading on devices such as Kindles.
Acknowledgements
1. Two Misconceptions About Kiva
Kiva Microfunds is a nonprofit organization whose website allows users to provide money toward filling small personal and business loans to individual borrowers around the world. The stated mission of Kiva, whose name is a Swahili word meaning unity or agreement, is "to connect people through lending to alleviate poverty."
Users of the website browse profiles of borrowers and select those to whom they wish to lend. Each profile includes the borrower's location, some brief biographical information (usually including a photograph), and a description of what the loan will be used for. Users can then lend as little as $25 to a borrower, which is pooled with money from other users to reach the full loan amount. When the loan is repaid, the user's account is credited back the amount they gave which can then either be lent to another borrower, donated to Kiva itself, or withdrawn. In its first ten years of existence (October 2005—​October 2015), Kiva's users lent $774 million to 1.8 million borrowers (75% of whom were women) in over 80 countries.[1]
The goal is to improve the quality of life in developing and conflict-torn regions where it is hoped that entrepreneurs can make effective use of even very small, expensive loans. The loans are disbursed by Kiva's field partners called microfinance institutions (MFIs). Despite its founders' original intention of allowing users to realize gainful returns on their loans, Kiva itself does not collect interest on loans, and Kiva's users do not receive any interest on repaid loans.
While the concept behind Kiva is simple — use a website to crowdsource cheap credit to subsidize MFIs operating in poor neighborhoods — the way it is presented can be confusing and tends to result in two misconceptions:
That Kiva users lend money directly to individual borrowers

Because the Kiva website is built around the biography-oriented borrower profiles, it is easy for users to assume that the money goes directly to the borrower after the loan is filled. Both assumptions are wrong for most loans. In fact the money goes to intermediary MFIs who usually disburse loans to borrowers even before their profiles are posted to kiva.org. By the time Kiva users have filled the loan amount, MFIs have not only already disbursed the loan but have likely started collecting payments (and interest) from borrowers.

So Kiva is not a direct person-to-person lending system. Kiva users are in fact lending risk- and interest-free money to Kiva's partner financial institutions, not to individual borrowers.

The Kiva website was once even more misleading about how disbursements worked, but after David Roodman of the Center for Global Development published an editorial titled "Kiva Is Not Quite What It Seems" (October 2009) which gained significant attention online, Kiva updated their "How Kiva Works" page to make it clear that loans are pre-disbursed.

And that borrowers are not charged interest on loans received through Kiva

Because Kiva itself is nonprofit and presents its operations as philanthropic, and because users do not receive interest on the money they lend, users might easily assume that borrowers are not charged interest. That is also an incorrect assumption. Most of Kiva's partner MFIs do collect interest and other fees on the loans, sometimes at very high rates, and sometimes acting as explicitly for-profit investor-owned banks.
2. What Are the Interest Rates Charged by Kiva's Partners?
Kiva does not directly provide information on interest rates for most individual loans. Instead, it lists two measures of field partners' performance which can be used to roughly indicate the average annual interest rate on that institution's products and how much profit those rates produce:
Portfolio Yield is the primary measure of the cost of loans from a given lender and can be treated roughly as the annual interest rate. Portfolio yield is defined as all interest and fees paid by borrowers to the field partner divided by the average portfolio outstanding during any given year.

Profitability (Return on Assets) is the field partner's net income divided by its total assets. It indicates how efficiently a field partner turns its investments into profit.
| | |
| --- | --- |
| | Kiva has started listing a calculated APR for some of its partners. They've introduced an "Average Cost to Borrower (PY/APR)" metric which displays either the Portfolio Yield (PY) or Average Percentage Rate (APR), whichever is available. |
According to the Kiva website the average Portfolio Yield for all of its field partners in January 2016 was 29.09% (down from 35.21% in January 2010), but some of its field partners have yields near 100%. In 2010 the charity evaluator GiveWell surveyed one of Kiva's field partners, MLF-Malawi, and reported that the actual APR on its most popular loan was 144%-149%.[2]
As of January 2018 Kiva provides both Portfolio Yield and Profitability for 196 out of its 270 active field partners. The table and graph below summarize the range and distribution of those metrics.[3]
| | Minimum | 1st Quartile | Median | Mean | 3rd Quartile | Maximum |
| --- | --- | --- | --- | --- | --- | --- |
| Portfolio Yield | 0% | 0.975% | 22% | 23.839% | 37% | 101.6% |
| Profitability | -170.2% | -1.653% | 1.5% | -0.262% | 4.333% | 124.76% |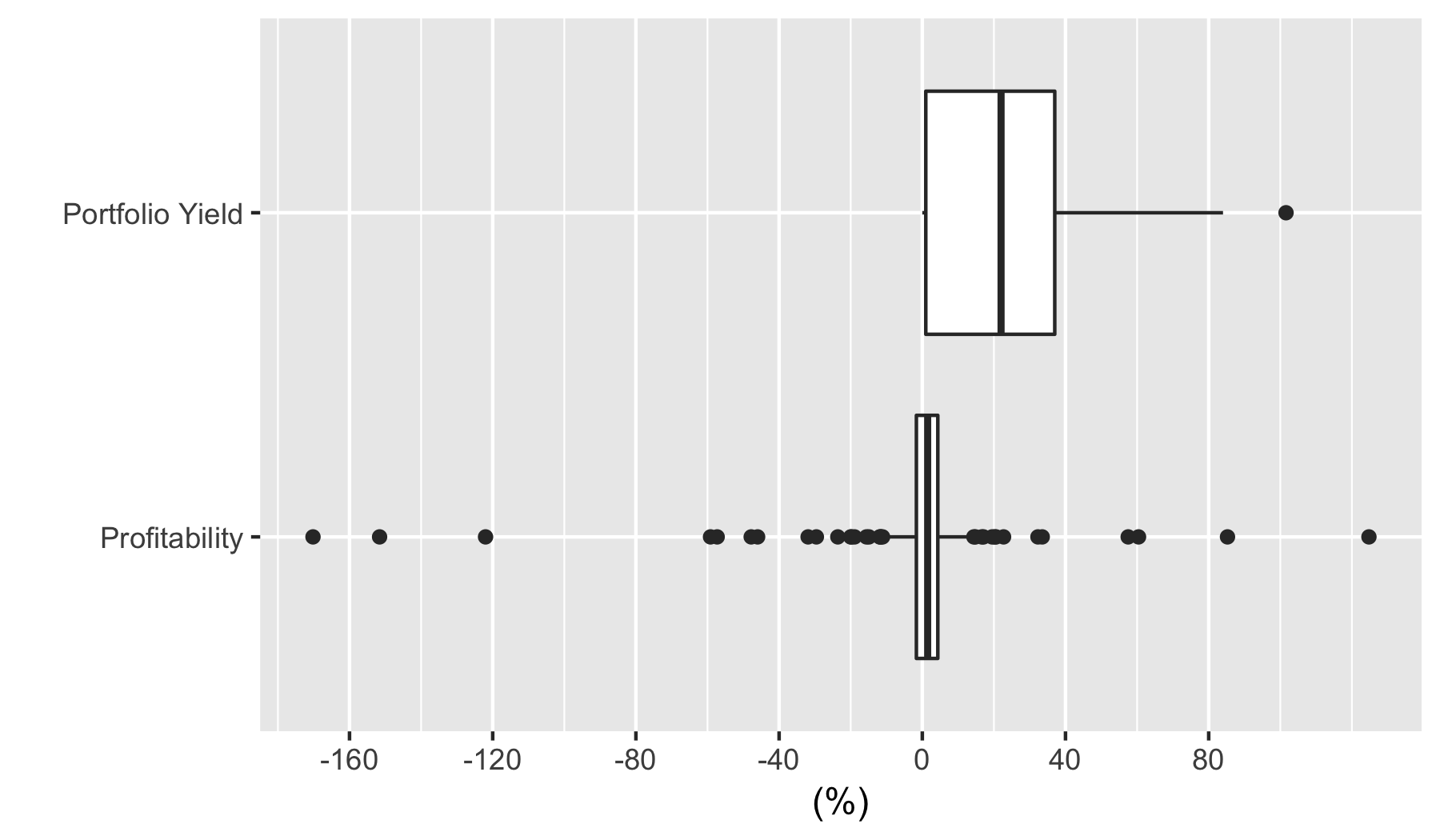 Figure 1. Distribution of Portfolio Yields and Profitability among Kiva's field partners (whiskers extend to 1.5
IQR
). Click for PDF version.
As a comparison to interest rates in countries with established and widely available financial services, the average credit card APR in the United States is about 15%,[4] and the maximum allowed interest rate on loans backed by the Small Business Administration is 8.75%.[5]
2.1. The problems with 'Portfolio Yield'
The Portfolio Yield indicator is the best available proxy for the actual annual percentage rate (APR) for most loans disbursed by Kiva's field partners. Portfolio Yield was actually introduced by Kiva in 2009 to replace an even worse proxy for interest rates.[6] Microfinance Information Exchange (MIX), a non-profit organization, sampled several MFIs and found an adjusted Portfolio Yield to be within five percent (not percentage points) of the reported APR.[7]
However, in the MIX analysis the Portfolio Yield indicators were adjusted upward to account for defaulted and at-risk loans still on the books (which inflate the portfolio value and so deflate the reported Portfolio Yield). In addition to overvalued portfolio, the Portfolio Yield can easily underestimate the actual APR of microloans for two other reasons:
Many of the microfinance institutions partnered with Kiva require borrowers to save a portion (usually around 20%) of the loan they receive. This requirement is known in the microfinance world as "forced savings." Borrowers from MFIs which use forced savings are effectively paying interest on a larger loan than they receive, so the Portfolio Yield in those cases will be misleadingly low.

Because the Portfolio Yield is calculated based on an institution's average outstanding portfolio, it will tend to reflect the larger (usually cheaper) products offered by that institution rather than being an accurate estimate of the (almost always higher) rates on the tiny loans provided to the struggling rural borrowers featured on Kiva.org. The MIX report identified this (the use of the wrong APR to represent an institution's microfinance loans) as the main reason Portfolio Yield and APR diverge.
So the nominal interest rates suggested by the Portfolio Yield of an MFI, which can be outrageously high, in many cases significantly underestimate the interest actually charged to microfinance borrowers.
Hugh Sinclair, author of Confessions of a Microfinance Heretic, wrote an article titled "What's Wrong With Kiva's Portfolio Yield Statistic?" exploring both of these (and other) problems with Kiva's Portfolio Yield metric. He compared the actual APR for a sample of loans from ten of Kiva's field partners with the Portfolio Yield reported by Kiva: for every MFI he looked at, the APR on most of the loans was higher (sometimes as much as double) the reported average Portfolio Yield.
So why doesn't Kiva require MFIs to state the actual cost of loans made using Kiva money rather than relying on the oblique "Portfolio Yield" figure? Sinclair thinks it is because if people saw the actual interest rates collected on loans they are subsidizing then they would think twice before using Kiva:
Kivans like to believe they are helping the poor, and in order to achieve this Kiva needs to provide them with minimal, but reassuring information. Some nice photos, a little story, and as favourable an impression of the actual interest rates as possible, as this is an emotive topic that will irritate many Kivans. They can get away with rates of 30%, 40%, even 50%, but they have to avoid rates which will raise too many questions, and by citing a statistic known to be deeply flawed, but reassuring the Kivans, is the best way to do this.[8]
2.2. The use and difficulties of 'Profitability (Return on Assets)'
While the high rates charged by some of Kiva's partners are a bit shocking and look outright usurious on first sight, Portfolio Yield alone doesn't indicate whether the interest being collected is exploitative. Those high rates could reflect the actual costs of administering credit in some regions of the world. Small loans are more expensive because fixed costs tend to dominate the price. And some regions have high inflation, poor or non-existent infrastructure, difficult to reach populations, or high crime and other instabilities, all of which contribute to the cost of credit.
If high interest rates were simply the result of price gouging due to lack of competition, then we'd expect that MFIs which charge high rates would tend to have correspondingly high profitability. However, as illustrated in the graph below of Profitability plotted against the Portfolio Yield for all 149 MFIs (as of January 2018) with nonzero Portfolio Yield and available Profitability data, there is no such correlation (the Pearson correlation coefficient is 0.09).[3]
A 2013 report based on a sample of 193 MFIs (none necessarily partnered with Kiva) gave similar results but found a slightly negative correlation between return on equity and portfolio yield (r = -.117). The author of the report hypothesized that the negative correlation, indicating that more profitable MFIs charge lower interest rates, is the effect of MFI lifecycle stages: young MFIs try to reach financial stability by charging high rates and fees while mature MFIs can afford more competitive rates.[9]
In any case, the lack of correlation between Portfolio Yield and Profitability shows that at least some markets are competitive, though likely very geographically uneven. We might hope, then, that even if we concede high interest rates are a necessary evil in some regions to cover operating costs, we could use the Profitability metric alone to identify MFIs that are overcharging for loans (say, try to avoid giving to MFIs who make more than 15% on their assets). Unfortunately, as is noted in the next section, the Profitability indicator seems to be rather noisy and unreliable as an indicator that an MFI is overcharging (or undercharging) for its products.
In addition, it should be kept in mind that low profitability can be an indicator that an MFI is struggling with internal inefficiency including under-utilized investments, over-paid executives, and fraud (none of which are especially unheard of in the microfinance sector).
Other metrics Kiva provides that can help here are the Default Rate, Delinquency Rate, and Loans At Risk Rate. Field partners which have trouble collecting repayments may be charging more than their clients can afford.
2.3. MIX Market data
In addition to the information provided by Kiva itself, financial data about many of Kiva's partner MFIs can be found on MIX Market (themix.org), an online clearinghouse for microfinance information run by the World Banks' Consultative Group to Assist the Poor. The data available on MIX Market is largely self-reported but claims to be independently reviewed and includes many more indicators than Kiva provides (including a portfolio yield figure which has been adjusted for inflation). Unfortunately, in June, 2016, while I was doing research for this essay, the MIX Market website was restructured to commercialize most of its data and publications behind a paywall making future research efforts using MIX datasets prohibitively expensive. Prior to the redesign, the MIX Market profile for Kiva provided a convenient list of MFIs currently and formerly associated with Kiva.[10]
In a weblog entry mourning the change, Phil Mader notes that the privatization of the MIX Market data "mirrors one of the darker trends in microfinance as a whole, where institutions are first set up with public or charitable money and supported for years (MIX was funded with millions of dollars in charitable, tax-deductible donations), but then are turned onto a revenue-maximising, commercial course, confronting their users with a hard-nosed commercial lender. Even though in practice this restructuring often fails to yield truly commercial returns (and behind the scenes the institution continues to be supported with soft money) the beneficiaries still must deal with what poses as a for-profit business, stripped of the more 'social' promises that lured them in."[11]
One issue in trying to assess an MFI's financial characteristics is that the data reported by Kiva is sometimes very different than the data provided by MIX Market. To get an idea of how well the available data agrees, I sampled[12] the Portfolio Yield and Return on Assets indicators from both Kiva and MIX Market for several MFIs and plotted them in the figure below.[3]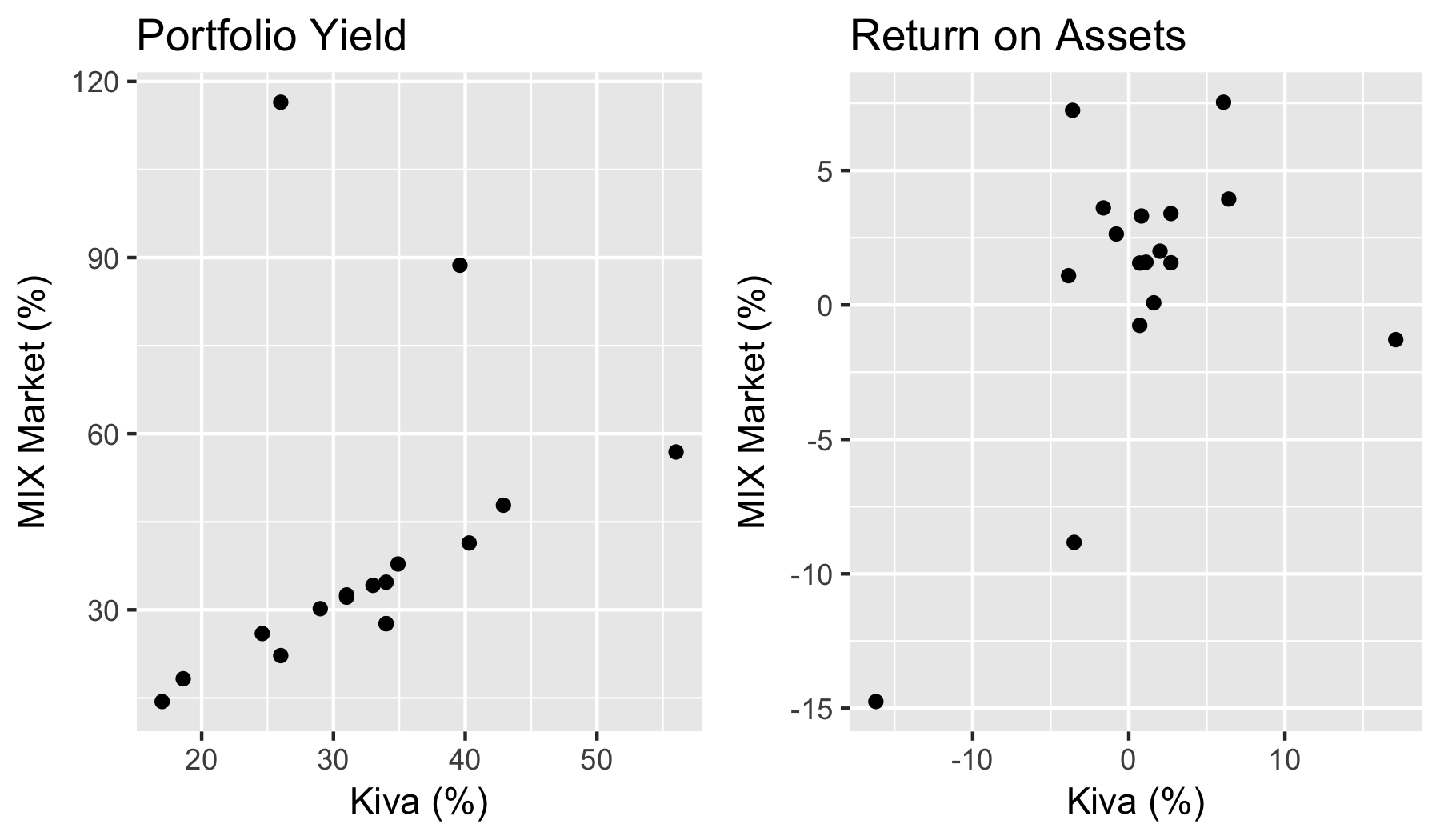 Figure 3. Correlation between data provided by Kiva and by MIX Market for Portfolio Yield (left) and Return on Assets (right). Click for PDF version.
While both sources tend to report similar Portfolio Yield figures (left graph), Kiva's numbers can occasionally vary greatly from MIX Market's. When the two obvious outliers are ignored, the correlation coefficient is nearly linear (r=0.96). In fact Kiva actually uses MIX Market data directly when reporting Portfolio Yield for some of its field partners, so that strong correlation is expected.[13] I do not know if there is a list of which partners Kiva uses MIX Market data for and which it calculates itself.
The Return on Assets figure (right graph), on the other hand, is much less consistent between Kiva and MIX (r=0.52).
I suspect the main cause of the discrepancies between the data reported by Kiva and MIX Market is timing: each organization receives and releases information from the MFIs on different dates (the plot above is based on the most recent data from both Kiva and MIX at the time of retrieval — but they aren't necessarily updated at the same time). If that's the case, then it indicates that the reported Return on Assets of MFIs tend to be rather volatile, which is another reason the Profitability metric may not be of much use in identifying non/exploitative MFIs.
2.4. Finding good lenders on Kiva
Keeping the limitations of Kiva's metrics in mind, the best strategy a Kiva user can adopt in order to find loans from a good MFI on Kiva.org depends on their humanitarian philosophy: a user who is concerned that high interest does more harm than good should seek out loans through partners with low Portfolio Yield; a user who is most concerned about exploitation should look for partners with low Profitability; a user who wants a balance of sustainability and humanitarian efficacy might look for partners with low Portfolio Yield and moderate Profitability; etc.
The best way to explore individual loan offerings is to use Kiva's lending tool (https://www.kiva.org/lend). As part of a June 2016 redesign, Kiva implemented improved filtering of their lending tool including the ability to filter based on "Average cost to borrower" (Portfolio yield, APR, or MPR, whichever is available) and "Profitability."
Unfortunately Kiva does not provide the option to sort their field partners table by Portfolio Yield or Profitability. But they do helpfully provide field partner information through a programmable web interface. I used that service to build KivaSort (https://kivasort.americancynic.net/) which provides a fully sortable and filterable table of Kiva's field partners.
By default KivaSort displays field partners with the lowest Portfolio Yield at the top to facilitate finding inexpensive lenders. But in order to illustrate and briefly investigate the high interest rates charged on some Kiva loans, the table below lists the active field partners with the highest Portfolio Yield (as of January 2018).
The ten field partners with the highest Portfolio Yields. Visit KivaSort.americancynic.net for a full, up-to-date table.

| Name | Portfolio Yield | Profitability | Country | Default Rate |
| --- | --- | --- | --- | --- |
2.4.1. Example: Thrive Microfinance
If we read the Kiva profile for the MFI second from the top of the list of field partners with the highest Portfolio Yields, we learn that Thrive Microfinance is an independent MFI in Zimbabwe which lends exclusively to women using the group loan approach (in which small groups take out a loan collectively and keep each other accountable for payments).
Note that after suffering record hyperinflation from 2007—​2009 (by the time the central bank stopped issuing currency, prices were more than doubling every 25 hours),[14] Zimbabwe stabilized prices by abandoning its national currency and switched to the US dollar. During most of 2014, Zimbabwe was experiencing slight deflation caused by a shortage of cash. That means the credit provided by Kiva was all the more valuable to Thrive, and its loans that much more expensive than their nominal rate.
The main reason Thrive charges so much for loans is apparently because they provide four weeks of mandatory training to borrowers before disbursing a loan. There is a note from Thrive addressing the high interest rates on their Kiva profile which concludes, "Even though we could reduce the interest rate if we reduced the amount of training, we do not believe that it is in our borrowers' interests to do so." That rings hollow to me: why not provide cheaper loans and then sell training to the groups who find that service valuable enough to pay for it?
2.4.2. A note on Islamic banking
Allah will deprive usury of all blessing, but will give increase for deeds of charity: For He loveth not creatures ungrateful and wicked.
— al-Baqarah 2:276
Islam has always had a healthy suspicion of exploitative increase (called riba in Arabic). As a result, financial service providers including MFIs partnered with Kiva which conform to sharia law are forbidden from charging interest on loans.[15]
Islamic financial institutions have developed some creative methods of working around the prohibition on interest by recasting loans as either joint ventures or normal trades, neither of which involve interest in a strict sense. Popular schemes include:
Mudarabah - where a bank provides capital and then shares the profit/loss at an agreed upon proportion with the entrepreneur.

Murabaha - where a bank buys an item, and then sells it at a higher price to the "borrower" who buys it from the bank in installments. This is the most popular Islamic financial instrument because it provides a predictable profit margin for the lender, though insofar as it is an attempt to hide financial interest (riba al-qurud) as merchant profit (riba al-buyu) it is arguably a violation of sharia (at least in spirit).
Islamic financial services dull the dangerous edges of traditional interest: if a borrower becomes unable to repay a loan, at least they do not become hopelessly burdened by ever-compounding interest. For that reason even devious implementations of murabaha will tend to be less exploitative and damaging than capitalist credit. However, it is a mistake to think that because Islamic loans are "interest free" they are also necessarily non-profit. Islamic banks still leverage their capital to profit from the work of borrowers. Furthermore, because Islamic banks take on more risk than traditional banks, loans based on murabaha generally require upfront collateral for the loan amount so that even without the spectre of compounding interest, Islamic loans can still pose a serious risk to families and poor entrepreneurs whose ventures fail.
The same metrics used to evaluate other field partners can be used to evaluate Kiva's sharia-compliant field partners. For example, at the time of this writing Kiva's long-time partner Al-Amal Microfinance Bank has a Portfolio Yield of 33.1% and a Profitability of 11.1%. Another example is Jerusalem Interest-Free Microfinance Fund Limited which is operated by volunteers and disburses loans at 0%, with a profitability of 17.1% (presumably its income from donations).
3. Women, Peasants, and Kiva's Role in Global Capitalism
4. Philanthropy or Business?
It is immoral to use private property in order to alleviate the horrible evils that result from the institution of private property. It is both immoral and unfair.
4.1. Kiva's origins: an accidental charity
Kiva was founded in 2005 by Matt Flannery and Jessica Jackley, a husband-and-wife team working out of San Francisco. They developed the first version of the Kiva.org website while Flannery was employed as a programmer at TiVo and Jackley was employed at the Stanford Business School (where she attended a lecture by Muhammad Yunus which ignited the initial spark of inspiration). Two years after launching, Flannery published a retrospective about Kiva's origins and development called "Kiva and the Birth of Person-to-Person Microfinance."[167]
In that article, Flannery described how even in the early days of Kiva there was a fundamental tension about "whether it was better to be seen as a charity or as a business."[168] Neither Kiva nor its users have ever earned interest on the loans facilitated by the website, but that charitable nature is more an accident of history (encouraged by the bureaucratic hurdles erected by the SEC) than the design of its founders.
The original plan was to charge MFIs interest on Kiva-financed loans, and then share a portion of that interest with users:
I architected the database, software, and user experience around the idea of returning interest to users. There was never any question that we wanted interest rates on the site.[169]
After grudgingly settling on the interest-free approach for the first two years, Flannery wrote that "we would still like to realize our original vision of having interest rates on the site. The fact that we had to remove them is a sore spot with me […​] Kiva thus continues its effort to allow our partners to post businesses to the site with interest rates attached."[170]
4.2. Charity for whom?
Kiva's founding tension was resolved by keeping Kiva itself purely charitable, supported exclusively by donations and grants, but partnering it with remote field partners who charge interest. That way the SEC was satisfied and the dirty business of collecting interest from people with no money was pushed to a more comfortable distance from the users of Kiva's website.
But the impedance-matching function of Kiva, which converts interest-free loans made by Kiva's users into interest-bearing loans collected by microfinance institutions, understandably produces a cognitive dissonance in its users. That double nature of loans given through Kiva, which are simultaneously charitable credit for MFIs and expensive debt for poor borrowers, is the source of the misconceptions I outlined in the first section of this essay, and it raises a question at the heart of the matter: who benefits from the free credit raised by Kiva? Does the incidence of Kiva users' charity fall mostly on the borrowers they intend to help? or does it fall more on the MFIs who accept the free credit and then turn around and loan it for gain to those borrowers?
Profitability among Kiva's field partners tends to be rather modest (suggesting that Kiva prefers partners on the charitable/non-profit as opposed to self-sufficient/commercial side of the spectrum): over three-quarters of currently active field partners have a Profitability at or less than 4.3%. By comparison, one report that looked at interest rate data from hundreds of MFIs (not limited to, or necessarily including any, Kiva field partners) over seven years found that three-quarters of MFIs in 2011 had a rate of profit up to 20%. That same report noted that if every MFI set their interest rates to their break-even point (so that profits = 0), then the average interest rate would fall by only 2.6 percentage points (in other words, even if every MFI were non-profit, interest rates would still be quite high in many cases).[171] That finding underscores the fact that microcredit is simply expensive.
The efficacy of microfinance at alleviating poverty has been a matter of research and debate since Muhammad Yunus founded the Grameen Bank in Bangladesh in 1983 (Yunus and the Grameen bank were jointly awarded the Nobel Peace Prize in 2006). The early anecdotal reports of success and the prospect of a business-friendly cure to poverty created an increasing excitement around microfinance for over two decades. But in recent years expectations have sobered.
Some MFIs have shown themselves to be nothing more than predatory banks, as typified by the 2007 IPO of Compartamos Banco in Mexico which raised millions of dollars of equity for investors with its business model based on charging groups of women very high interest on microloans.
In October 2010 the microfinance industry in the Indian state of Andhra Pradesh self-destructed in a frenzied lending bubble accompanied by aggressive collection practices.[172] Hundreds of suicides in the region have been linked to microfinance debt and harassment at the hands of loan agents. The Associated Press reported the following details about some of the suicides linked to an MFI called SKS:
One woman drank pesticide and died a day after an SKS loan agent told her to prostitute her daughters to pay off her debt. She had been given 150,000 rupees ($3,000) in loans but only made 600 rupees ($12) a week.

Another SKS debt collector told a delinquent borrower to drown herself in a pond if she wanted her loan waived. The next day, she did. She left behind four children.

One agent blocked a woman from bringing her young son, weak with diarrhea, to the hospital, demanding payment first. Other borrowers, who could not get any new loans until she paid, told her that if she wanted to die, they would bring her pesticide. An SKS staff member was there when she drank the poison. She survived.

An 18-year-old girl, pressured until she handed over 150 rupees ($3)--meant for a school examination fee—​also drank pesticide. She left a suicide note: "Work hard and earn money. Do not take loans."

In all these cases, the report commissioned by SKS concluded that the company's staff was either directly or indirectly responsible.[173]
Kiva did not have any field partners in India at the time of the Andhra Pradesh crisis.
A 2012 paper by outspoken microfinance critic Milford Bateman (author of Why Doesn't Microfinance Work?: The Destructive Rise of Local Neoliberalism) and influential heterodox Cambridge economist Ha-Joon Chang described the microfinance model as "most likely" a "poverty trap" at the individual and community level, and as a mis-allocation of capital at the national level.[174]
In the past five years or so several rigorous studies which use a randomized method to compare the effects of microfinance on borrowers have appeared in the academic literature. The result of one recent survey of six such studies found that "The studies do not find clear evidence, or even much in the way of suggestive evidence, of reductions in poverty or substantial improvements in living standards. Nor is there robust evidence of improvements in social indicators." But the same survey also found "little evidence of harmful effects, even with individual lending […​] and even at a high real interest rate."[175]
Kiva performs a degree of due diligence and monitoring of the MFIs it chooses to partner with which provides some protection against abuse. The measures Kiva uses to evaluate field partners developed out of some hard-learned lessons. In their first four years of operations they discovered six "situations involving severe fraud," including one involving their very first partner, a Ugandan man named Moses Onyango, who was so instrumental in getting Kiva started that he is sometimes referred to as the third co-founder.[176]
Among the MFIs Onyango signed up as partners in Kiva's early days was one he founded himself, the Women's Initiative to Eradicate Poverty (WITEP). It turns out that not all of the WITEP borrowers were real: some loans were being disbursed in the names of fictional people and pocketed by Onyango. Due to Uganda's unresponsive legal system, Kiva never recovered the stolen money (but they did pay back Kiva.org users out of their own expense account, as well as maintain a policy of transparency about the fraud when it was discovered).
The kind of fraud Onyango perpetuated is not particularly worrying. He used the stolen money to buy a house for his family (and he was so grateful to Kiva for its influence on his life that he named his new son Matthew Flannery Onyango). What Onyango did was to cut out the interest-charging middleman and transform Kiva into the version of itself that users imagine it is: they lent money, helped out a Ugandan family, and got repaid.
Far more worrisome are legitimate MFIs who might use Kiva's website as a place to sell feel-good stories to naive Americans for free capital with which they can go about their business of robbing the poor. It strikes me as much less likely that Kiva would discover and terminate its partnership with MFIs who overcharge borrowers, and in fact Kiva's entire structure of funneling interest-free credit to interest-charging lenders almost encourages it.
As an example consider the case of Kiva's former partner in Nigeria Lift Above Poverty Organization (LAPO). In 2010 the New York Times published an exposé about microfinance interest rates which specifically mentioned the high rates and forced savings of LAPO.[177] Kiva had initially defended the interest rates and high profitability of LAPO with its usual explanations (inflation, high operating costs, and the need for sustainability), but then after further investigation prompted by the media attention decided to terminate the partnership. LAPO overwhelmingly targeted women with its high-interest loans. The LAPO incident doesn't exactly breed confidence in Kiva's other partners who have not been investigated by journalists.[178]
4.3. Kiva's apology
5. Alternatives
Expanded super-exploitation of new, youthful, and female proletarians of low-wage countries rescued capitalism from the hole in which it found itself in the 1970s. Now, together with workers in the imperialist countries, it is their mission to dig another hole — the grave in which to bury capitalism and thereby secure the future of human civilization.
— John Smith
"Imperialism in the Twenty-First Century"
What the bourgeoisie therefore produces, above all, are its own gravediggers.
— Engels and Marx
Manifesto of the Communist Party
In what is probably the most often quoted line from her Economic Philosophy (1962), the economist Joan Robinson quipped that "the misery of being exploited by capitalists is nothing compared to the misery of not being exploited at all."[190] In its original context she was referring to the plight of workers in nominally Socialist countries who didn't even have the luxury of calling their exploitation by name. But it applies just as well to the misery of unemployment, or to those rural poor with increasing need for commodities but with inadequate access to financial services. Because whatever evils may be inherent to the microcredit model, and I believe that in many cases it exists merely as (yet another) institution for robbing the poor, MFIs (like loan sharks) would not find so many willing customers if their services weren't in demand. Even putting questions of profit and exploitation aside by assuming that MFIs operate efficiently and at some optimal balance between charity and sustainability, the question which remains and confronts the Kiva user is whether giving poor women in impoverished neighborhoods expensive debt is a good way to help them — and if it is not, then what else can someone on their computer in a rich Western country do to help?
Finding ways to escape Robinson's dilemma — that is, escaping the misery of being included within capitalism without the misery of remaining excluded from capitalism — has been the essential task of the socialist project since the early nineteenth century. Most attempts have centered around building alternative economic structures which eliminate or minimize profit, rent, and interest through cooperative workplaces (which are owned and managed by the workers who democratically allocate surplus, rather than being owned by investors and managed by bosses beholden to those investors), redistribution of real estate (away from landlords and to the people who actually use and live on the land), and interest-free mutual credit (which is most relevant as an alternative to microcredit, and we will look at a few examples below).
5.1. Socialist markets?
5.2. Mutual credit: zero percent interest
"To advocate market socialism," the British political theorist David Miller has written, "is not to make a fetish of the market."
Markets are an effective device for providing a wide range of familiar goods and services, but where the boundaries should be drawn — which goods and services are bet provided through the market and which through public agencies — is a matter of practical experience, not of principle.[214]
In fact, markets alone, capitalist or otherwise, bring no guarantee of success at even their most basic function of distributing goods according to want. Rather than matching supply to demand, markets are only capable of matching supply to the demand of those with money, a disastrous defect producing failures such as the export and destruction of food crops during depression-driven famines or holding millions of empty houses out of use while nearly the same number of people go without permanent shelter.[215]
A prerequisite for markets to approach their potential usefulness, then, is a relatively equal distribution of money together in the meantime — or in addition to — a guaranteed basic standard of living by keeping a base level of income, food, housing, and medical care decoupled from market distribution (here anarchists and proponents of the social democratic welfare state see eye-to-eye, even if their methods differ).[216]
Central to the market socialist attempt at setting markets on more equitable footing is access to inexpensive non-exploitative money, including interest-free credit. But unlike microcredit, the various mutual credit schemes are explicitly non-profit and aim to provide an alternative to capitalist accumulation. Not only would increased access to credit allow prices to respond to everyone's wants rather than only to the wants of the wealthy, but a low interest rate[217] on credit would tend to create an upper bound on the rates of profit and rent derived from capital and land, reverberating an equalizing force throughout the economy. If credit were easily and inexpensively available for all, then workers would have the realistic option of going into business for themselves, keeping upward pressure on wages. This is why mutualists emphasize interest-free credit (with fees to cover operating expenses and expected losses only) as a route to the elimination of exploitative profit. Warren's Time Store comfortably managed by charging a mere 4% markup; credit associations should be able to administer loans with a similarly low overhead (probably closer to 1% if expressed as an interest rate rather than a one-time fee).
The history of socialist innovations is difficult to pin down because cooperative forms of business, mutual aid societies, and prices limited by labour-time (including labour exchanges like time banks and Warren's Time Store) are re-discovered and re-invented everywhere exploitative commerce produces poverty and inequality. The most successful and mainstream adoption of mutual banking principles to date is embodied by the credit union movement. The lineage of modern credit unions — cooperatively owned banks operated in the interests of their member-owners — owes more to the practical cooperative credit societies pioneered by liberals in nineteenth-century Germany than to any utopian or specifically socialist scheming. Not long after Proudhon's People's Bank failed to get off the ground in France, the 1850s saw a proliferation of Franz Hermann Schulze-Delitzsch's credit cooperatives throughout Germany and Europe.
The structure of Schulze-Delitzsch banks were introduced to the United States via Canadian proponents of cooperative credit, and were first legally formalized there in Massachusetts in 1910.[218] Today 235 million people belong to credit unions (over 45% of whom live in the United States) controlling $1.7 trillion in assets.[219] But the emphasis on loans provided by credit unions, at least in developed countries, has shifted from production and wholesale purchase of supplies — as a means of competing with capitalists or maintaining livelihoods outside of major capitalist influence — to consumption within capitalism. Over 90% of the approximately $1 trillion in loans provided by American credit unions are distributed as mortgages, automobile loans, and personal credit card loans.[220]
Another pioneer of nineteenth-century German cooperatives, Friedrich Wilhelm Raiffeisen, adapted the Schulze-Delitzsch model to serve rural communities so that farmers could pool their limited savings to issue credit and purchase supplies. British colonial officials, impressed by the success of Raiffeisenian credit unions, adopted the ideas and introduced them in India in an attempt to combat poverty and the loan sharks preying on rural populations there. The credit union movement thrived in India in the early twentieth century (counting four million members by 1930) before declining under two opposing forces. In one direction, the sustainability of credit unions was compromised when lending standards and collection efforts became lax; in the other, control of the cooperatives tended to be captured by local landlords and moneylenders, rendering them ineffective as means away from poverty or toward self-determination.
It is in the void left by this first generation of rural colonial British credit unions in India and Bangladesh that modern microfinance was born. But as Phil Mader has warned, a strict acceptance of this lineage is misleading — microfinance institutions are usually not cooperatively owned and operated by their customers — and histories of microfinance sometimes give the industry an undeserved cooperative veneer: "the microfinance movement and the cooperative movement have little in common, and they differ most fundamentally regarding who owns and governs the credit-giving institutions."[221]
Silvia Federici has also emphasized the difference between mutual credit societies and microfinance institutions which rely on social pressure and group lending to collect payment and interest:
The other side of women's struggle for direct access to means of reproduction has been the formation, across the Third World—from Cambodia to Senegal — of credit associations that function as money commons. Differently named, "tontines" (in parts of Africa) are autonomous, self-managed, women-made banking systems, providing cash to individuals or groups that can have no access to banks, working purely on the basis of trust. In this, they are completely different from the micro-credit systems promoted by the World Bank, which functions on the basis of shame, arriving to the extreme (e.g., in Niger) of posting in public places the pictures of the women who fail to repay the loans so that some have been driven to suicide.[222]
By providing a way to pool assets, cooperative savings and loan organizations (such as credit unions) increase the money supply and make investments in large projects possible within cash-poor communities. But what about the stalled economies of communities full of people willing to work with, buy from, and sell to each other but who don't even have the spare cash to put in a small savings account? It is not unusual for people living in neighborhoods left in the wake of capitalist crises and villages at the forefront of neoliberal primitive accumulation to be reduced to this economic absurdity: the ability to work and the necessity to eat, but separated from the capital and consumer goods markets for lack of money. The commercial microfinance solution is to capitalize on the misfortune: import finance capital from global markets and export profits from the work of borrowers.
A more cooperative approach is to create a mutual credit society backed not by deposits but by the labour of its members: a way to buy goods in exchange for the promise to perform some work. One popular scheme of labour-backed local currency in the age of neoliberal capitalism, called Local Exchange and Trading System (LETS), developed in Vancouver, British Colombia, during the stagflation and widespread unemployment of the 1980s. A LETS exchange provides a directory of goods and services offered and wanted. Members agree on a price which is credited to the seller and debited from the buyer in the LETS ledger, in effect providing interest-free credit and thereby allowing people who are otherwise unemployed or have no money to produce for and buy from each other. "In a LETS, currency is unlimited; there are neither credit limits, debt charges, nor disciplinary methods of forcing people to work."[223]
Peter North, ethnographer of LETS communities in the United Kingdom, has explored the degree to which alternative currencies have and can potentially act as "micropolitical" resistance to capitalism. North, writing from the position that the Marxist critique of utopianism cannot be assumed a priori such that he expresses hope in bottom-up markets as a possible path away from capitalism, quotes an anarchist member of the Manchester LETS:
The great thing about LETS is that you can start to live life outside capitalism, outside mainstream work or on the dole. Being unemployed is very soul-destroying and isolating, but LETS gives you a way to be part of a wider group and sell your skills so unemployment doesn't grind you down.[224]
As with personal computers, which make systems like LETS practical, the internet has introduced new tools for administering and federating mutual credit. In terms of popularity, there is nothing to rival what Kiva has done for microfinance, but one of the first web-based LETS groups, the Community Exchange System based in Cape Town, is now a global network with nearly 1,000 exchanges operating in 90 countries.[225] Another adaptation of LETS to the internet is the Ripple payment system which uses a web-of-trust to allow users to establish decentralized interest-free credit lines amongst themselves. Ripple was directly inspired by the Vancouver LETS scene, but it has since re-branded and shifted its focus to connecting commercial banks with its transaction protocol and to its Bitcoin-inspired cryptocurrency (XRP).[226]
5.2.1. Cryptocurrency
Bitcoin itself differs from mutual credit ledgers like LETS in important ways. Instead of being a unit of accounting freely created as needed, Bitcoin, aptly named, is a commodity that must be purchased or computed ("mined") before it can be used as money. Furthermore, Bitcoin so far has proven more popular among speculators as a store of value than among traders as a general-purpose medium of exchange. As a result, the Bitcoin economy has tended to mirror the inequalities and concentration of wealth in the mainstream economy. The enthusiasm surrounding Bitcoin and other cryptocurrency technologies is also often fueled by a market fundamentalism at odds with socialism. Still, the Bitcoin-led explosion in electronic currencies and its underlying blockchain technology have introduced new fields of opportunity and experimentation in egalitarian and libertarian economics:
Subversive money
The psuedo-anonymous nature of transactions, and the difficulty of controlling the public blockchain ledger by a central authority, make cryptocurrencies attractive to individuals and communities wishing to escape state surveillance, repression, and monopoly. One leftist Bitcoin user has expressed their enthusiasm in these rather utopian but sympathetic terms:
We now have the tools to create a world-wide global revolution where there no more Gods or Masters of the economic system. We can allow for our peer-to-peer relationships via the internet to become a new paradigm for social, economic, and political organization. No longer do we have to believe in the false divisions of nationality, obey the repugnant laws of states that keep us oppressed and impoverished, nor tolerate governmental theft via law, or the exploration by capitalist allowed by their laws. Through forging a new economy that is built on top of non-state based currencies, we can create a new way forward free from the hands of both statist and capitalist, and their desire to exploit others for their own gains. […​]

By pulling money into the digital realm outside of the hands of states or bankers, we can create a new system of economic exchange and money that does not need the violence of the state, or the exploitation of capitalist.[227]
Private money
Bitcoin itself functions as a gigantic public ledger of transactions which provides less privacy than traditional cash. But some cryptocurrencies, such as Monero (XMR), are designed to provide much more anonymity.
In November 2017, The New Inquiry magazine launched Bail Bloc, a project to mine Monero to raise money for the Bronx Freedom Fund (providing bail for low-income detainees in New York) and Immigrant Bail Fund (providing bail for detainees in immigrant detention centers). As of May 2018 the project has mined over 44 XMR (over $7,000 USD) which they claim is enough to post bail for 12 people.[228] The project organizers admit the cryptocurrency route is a bit of a gimmick ("This is as much about catapulting a radical criticism of bail into the public imagination as it is about raising bail funds via cryptocurrency"), a tactic of public engagement they call "rhetorical software".
Circulating money
Bitcoin is inherently (and intentionally) deflationary in the long run (supposing demand remains constant): the rate at which new coin is mined becomes increasingly slower as it approaches a predefined maximum. Because deflation incentivizes hoarding and prospecting, some alternative cryptocurrencies have experimented with inflationary designs (for example by removing the upper-limit on the number of coins issued). At the extreme are projects like Freicoin (FRC), one of several cryptocurrency projects born during the Occupy Wall Street protests, which dissuades hoarding by implementing a demurrage fee so that all coins lose approximately 5% of their value per year. The perishable currency of Freicoin is influenced by the Freigeld ("free money") of the German economist Silvio Gesell, who was himself an anarchist influenced by Proudhon.[229]
Environmental and democratic money
The Bitcoin network reaches consensus about its distributed ledger by means of an energy-expensive proof-of-work algorithm which has raised concerns regarding environmental degradation and the speed of transaction verification. Many alternative cryptocurrencies have experimented with more efficient algorithms and alternative incentives for mining nodes. One of the most unconventional solutions is that used by FairCoin (FAIR). Rather than being fully decentralized, Faircoin relies on designated validation nodes which take turns creating and validating blocks in the blockchain, an inexpensive process involving no mining or mindless number crunching. But perhaps the most interesting thing about FairCoin is that it has been adopted as the currency for the FairCoop project, an umbrella for several cooperative economic initiatives. FairCoop's initial stock of FairCoins was donated by Enric "Robin Banks" Duran, an activist who took commercial and personal loans from dozens of Spanish banks totaling €492,000, and used them to fund various anticapitalist projects with no intention of making any payments.[230]
Venture communism
The blockchain technology underlying Bitcoin is capable of being used as more than a mere ledger for cryptocurrency; other potential applications include a generic consensus-based distributed database or a platform for self-executing 'smart' contracts which can facilitate all kinds of trades and transactions. One experimental group which hopes to harness the blockchain for the cause of liberty is the Finnish Robin Hood Asset Management Cooperative, an "activist hedge fund" founded by critical-theory-reading artists, is structured as a cooperative, invests its members' contributions in major US stock exchanges (according to a trend-finding algorithm they have developed and named "Parasite"), and earmarks a portion of any profit to fund community projects. Robin Hood, described by one of its founders as a "counter-investment cooperative of the precariat,"[231] accepts Bitcoin contributions and maintains its membership database using the Ethereum blockchain platform. In the words of Brett Scott, author of The Heretics Guide to Global Finance (2013), "The Dada artist Marcel Duchamp took a urinal and called it Fountain. Robin Hood takes a hedge fund and calls it a liberator of precarious workers."[232]
As of July 2018, Kiva accepts payment from users in Bitcoin. In 2019 Kiva is planning on launching an experimental blockchain-based credit bureau in Sierra Leone in hopes of decreasing the cost of validating credit worthiness.[233]
5.2.2. Direct and interest-free: Kiva's future?
5.3. Debt strike
As delinquency rates rose in Nicaragua's microfinance sector during the global financial crisis of 2008, MFIs turned to aggressive tactics in collecting late payments from over-indebted[239] microfinance borrowers, including the seizure of collateral property. In June of that year, an MFI called ProCredit operating in the northern city of Jalapa had several delinquent borrowers arrested for non-payment. The arrests galvanized a simmering unrest into a widespread protest that became known as the No Pago ("non-payment") movement. Thousands of borrowers struggling with interest payments on loans they could no longer afford (if they ever could), demanded relief from the government and directly from MFIs in the form of lower interest, payment lenience and restructuring, and debt forgiveness.[240]
To bring attention to their grievances, No Pago protesters took to the streets, keeping some highways closed for days. They also brought their protests to MFI branch offices, a tactic which was intensified after President Daniel Ortega publicly praised the protesters but urged them to clear the highways and take their complaints directly to the "usurers".[241] An attempt was made to burn down the offices of an MFI in Ocotal, and other loan offices were barricaded by protesters with staff members trapped inside. Several protesters were seriously injured during the ensuring battles with police. In the immediate wake of the riots, several MFIs in northern Nicaragua closed down.
A Moratorium Bill was finally enacted by the Nicaraguan legislature in 2010 which set lower maximum interest rates and provided payment restructuring to a small number of distressed borrowers. But by that time the Nicaraguan microfinance industry had been deeply damaged: between 2008 and 2010 around 100,000 microcredit clients stopped receiving credit, the total sector loan portfolio fell from $420 million to $170 million, and in addition to the millions lost to default, foreign investors withdrew around $60 million in funding from MFIs affiliated with Nicaraguan Association of Microfinance Institutions.[242]
Near the height of the No Pago movement in 2009, twenty-five international funds including Kiva took out a full page ad in La Prensa calling on the government to protect investments in Nicaraguan microfinance. Kiva also placed an alert on the profile pages of all Nicaraguan borrows which warned that the moratorium law "could have a crippling effect on the microfinance industry and banking sector in Nicaragua."[243] More than the short term losses, MFIs and investors were preoccupied with a fear that the No Pago movement would cultivate a permanent "culture of non-payment"[244] rendering Nicaraguan peasants and artisans unexploitable as a source of surplus value.
In his popular history of debt, David Graeber commented on the peculiarity of the Christian adoption of the word redemption: "It is rather striking to think that the very core of the Christian message, salvation itself, the sacrifice of God's own son to rescue humanity from eternal damnation, should be framed in the language of a financial transaction."[245] Drawing from the ancient Hebrew custom of Jubilee, according to which slaves were freed and debts were forgiven every 50 years, he reads Christian soteriology as awaiting a final, permanent Jubilee:
If so, "redemption" is no longer about buying something back. It's really more a matter of destroying the entire system of accounting. In many Middle Eastern cities, this was literally true: one of the common acts during debt cancelation was the ceremonial destruction of the tablets on which financial records had been kept, an act to be repeated, much less officially, in just about every major peasant revolt in history.

This leads to another problem: What is possible in the meantime, before that final redemption comes?[246]
Earlier I charged the Marxist opposition to markets, an opposition which ends up relying upon markets for the foreseeable future, with being anticlimactic. But even if that's the case, the small-scale socialist experiments in cooperative business, mutual credit, and the even more minuscule experiments in alternative currencies I described as hopeful alternatives are downright irrelevant, at least to most people suffering under debt, wage labour, lack of credit, and unemployment now. The actions of Moses Onyango who defrauded Kiva in Uganda, Enric Duran who defrauded so many Spanish banks of hundreds of thousands of dollars by simply refusing to pay back his loans, and the No Pago defaulters in Nicaragua all point to one of modern capitalism's soft spots and a potential source of relief in the meantime: the availability of consumer credit mixed with a culture of non-payment provides practical opportunities to expropriate a bit of our share from the expropriators.
Graeber along with several other activists involved in the Occupy Wall Street movement have attempted to spark such a culture of nonpayment in the United States by establishing a network of debt resistance called Strike Debt.[247] Strike Debt has launched two initiatives so far: the publication of The Debt Resisters' Operations Manual, a book with information on how various forms of consumer credit work and how payments can be resisted, and the now-defunct Rolling Jubilee project which bought up bad debt (mostly student and medical) for cheap and then forgave it outright[248]
Such debt resistance, of course, is not sustainable. Although microfinance in Nicaragua has now largely recovered,[249] the fear of a culture of non-payment expressed by investors is valid: if credit is abused on a large scale, as advocated by debt resistors, then it will cease to be profitable to investors who will find more lucrative ventures leaving behind an even greater crisis of liquidity and lack of financial services than the poor already face.
But to reject debt strikes on grounds of sustainability is to beg the question of whether capitalism itself should or can be sustained. (Note that I single out capitalism because it is the dominant form of economic exploitation, not because it is the worst possible form). To some naturally empathetic people the answer is obvious. For the rest of us, I hope this essay has at least highlighted some reasons why, at the very least, we ought to be highly suspicious of capitalist production and the societies built around it.
6. Further Reading
Most of the ideas I've engaged with in this essay were inspired by, and are expressed more fully in, these five or six works:
This evocative essay — by emphasizing the primacy of women's oppression to the maintenance of capitalism — explores the role and plight of women in a working class being remade by the latest waves of global primitive accumulation. It is also available as a 34-page printed pamphlet from AK Press (ISBN: 9781894946421).

Published at the tail end of the second-wave feminist domestic labour debates (see Section 3.7, "Cursed housework and witch hunts"), this is now a classic look at the capitalist system from a materialist feminist perspective. For further further reading, consider Silvia Federici's Caliban and the Witch: Women, the Body, and Primitive Accumulation which greatly expands on some topics raised by Mies, especially the early modern witch hunts as a form of capitalist primitive accumulation.

A concise and readable Marxist criticism of microfinance. "[T]he question at stake here is not whether microfinance 'works' at reducing poverty — for which negative (or, at least, zero-impact) findings already abound — but what microfinance works at, and how? The answer I offer is that microfinance financializes poverty: it works to turn it into a problem of finance and makes it the basis for new credit relations which serve surplus extraction." (80)

I believe this recent book is the most complete single-volume criticism of microfinance available. I was unable to obtain a copy in time to incorporate more of its findings and conclusions about the false promises of microfinance, but they generally emphasize and expand upon the concerns I have already raised in this essay.

First published in 1867, this is the book in which Marx most completely presents his theory of capitalist exploitation at the micro-economic level (see Section 3.1, ""Primary exploitation" (wage labour and accumulation)"). But it is no dry economics text, as it is full of Marx's literary flourishes and philosophic insight. It is long (though many sections, particularly the listings of various statistics, can be skimmed or skipped without missing anything important), but it is highly recommended reading for nerds interested in economics and philosophy. "A commodity appears at first sight an extremely obvious, trivial thing. But its analysis brings out that it is a very strange thing, abounding in metaphysical subtleties and theological niceties." (163)
Appendix A: Data and Scripts
A.1. Data
active_partners.csv - the list of all active field partners with complete Portfolio Yield and Profitability data (as fetched using the Kiva API) in comma separated values format.

combined.csv - list of some chosen field partners data from both Kiva and the MIX Market (used to produce the figure correlating Kiva and MIX Market data). Unfortunately this is a hand-assembled file, and now that MIX Market data is not freely available, it can not easily be updated.
A.2. Scripts
The data files above can be automatically updated and the figures re-generated using the following scripts:
References and Notes
---